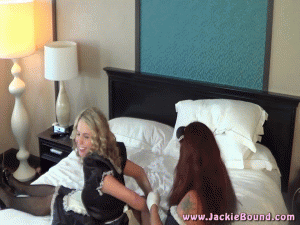 150 photos; 12:03 video
Fayth and I are maids with a long time to work on just one lonely little room. Oh how will we pass the time? Fayth and I decide it's time to play! Makes sense ..... We're already dressed in satin as French Maids! We kiss and canoodle for a few minutes before we pull out our toys (We like to keep them hidden in our cart just for times like these). Fayth ties my hands behind my back on the bed and then attaches my legs to a spreader bar. Fayth gives each of us a cleave gag and the hitachis fly out. I'm afraid we get a bit giddy and topless as we bring each other to pleasure repeatedly. Fayth even uses two hitachis on me at some point. I'm not sure this room is ever getting cleaned!
If you like my red headed girlfriend Fayth, you should check out her website: Http://faythonfire.com .