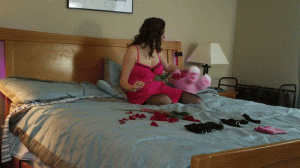 50 photos; 8:04 video
I decide Johnny needs a surprise for Valentine's day! He is such a great husband and nothing pleases him more than seeing me tied and gag. And, and even greater pleasure is when I tie myself. So, I plan an elaborate scene placing sports cuffs, a hot pink bandanna, an old bondage magazine, some roses and a cuddly pink teddy bear on the bed. I enter wearing a hot pink baby doll nightie, hot pink satin panties, black garter belt and black stockings. Since my surprise is for my hubby, I have on my signature Jackie collar. I hop on the bed and playfully check out the implements I have gathered. And, then, I put my sports cuffs on my wrists and ankles, followed by a cleave gag in my mouth. I roll over and fiddle around with the cuffs until I am able to get them clipped together in a nice hogtie. I roll around on the bed for a few minutes even trying to grab the rose by the stem with my mouth. But, I keep dropping it and realize that it's harder that it looks. Oh well, I'm having fun and I know Johnny will love my little surprise video! Stay tuned for the second part....
If you have ANY request please be sure to email me maladaptiveb@yahoo.com You can also friend me on www.fetlife.com my username is: RealJackieBound. Be sure to follow my blog here for upcoming updates and shoots.