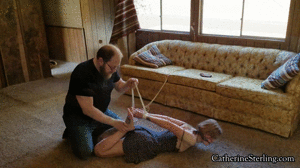 7:45 video
We got to meet Catherine Sterling and just love her. Be sure to check out her site that has a little bit of everything for everyone.
Sundress Ripping Clothing Destruction & On Screen Hogtie for a Rough Handled Catherine Sterling - with a cameo by Lisa Harlotte!
Long legs in high stilettos appear through the door of the trailer, tattoos stretching up a limber thigh to the mini-dress above, skimpy enough to be grazing at the ass cheeks of the petite frame as it is led into the trailer. A broad shouldered brute – his muscular frame amplified by the slender girl he has in his hold – has tied the wrists of the cleave gagged blond, using the rope ends as a leash to control her. Inside the door of the rundown mobile home a dusty couple of couches sit, throwing the bemused babe onto one he slams the door behind him and sets to grabbing her with a large hand around her neck to lift her up and drop her back down on the floor, her knees crumple below her as she submits to his powerful grip. His rope leash is repurposed to tie kicking ankles together into a tight hogtie, high heels removed from bare feet to reveal soft soles below. With that one long length of fierce nylon braiding, the girl has her crotch cleft in two with a waist wrap that extends down between her pussy lips – that's what you get for going commando in such a short sundress! Now the brute has her trussed up tightly he takes a hold of that flimsy, flowery material barely covering her and rips apart its bodice, her tiny tits are exposed as the entire dress is torn off in a complete clothing destruction, stripping her and leaving her naked and vulnerable on the coarse carpeted floor. Hulking over the helpless lass, he stands, black boots so close to her face… He sits on the couch, using his new plaything as a footstool, and calls out to his wife who is smoking a cigarette somewhere back in the trailers depths... "Happy Valentine's Day, Baby".
Part Two coming soon – Lisa Harlotte treats herself to a bite of Catherine's feet!