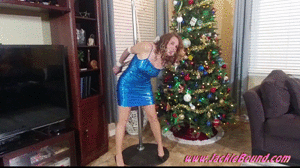 70 photos; 15:24 video
Even though we have hung a new calendar on the wall and determined to have a better 2021 than 2020, there is still just one problem. We are creatures of social distancing now. Parties and large gatherings have lost their luster. Even on New Year's Eve. At any rate, Johnny bought me this metallic, shiny blue dress a while ago, hoping that the world would be in a much better place. So, that we could hit the town and celebrate in style. It's a good thing that knowing Johnny, he has an alternative plan in mind. He never lets a good dress or occasion go to waste.
So, tonight we celebrate New Years in front of the Christmas tree (I mean, festivus pole) that we still have not taken down. Wearing my sapphire dress, black metal collar, nude stockings and black high heels, I once again stand in front of the festivus pole (I mean, Christmas tree) to be tied up. Johnny ties my arms behind the pole at the elbows and wrists. Of course, Johnny always loves a good gag (pun intended), so he puts a thick cloth gag in my mouth. Then, he watches me wriggle on the pole as he watches the ball drop on television. Johnny always gets to celebrate his favorite way...with his damsel tied up and gagged. Naturally, nobody's complaining. ;)
Happy New Year all! I hope your 2021 is amazing!

Jackie ♥